Final VorteX.io microstation installations (6th Sept 2022):
Two further VorteX.io microstations were successfully installed at locations on the Severn Estuary coast on 6th September, on the A48 bridge over the River Usk in Newport, and on the Grand Pier at Weston Super Mare. This completes the installation of new gauges for the project.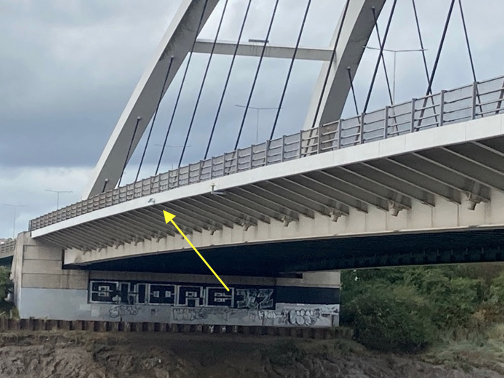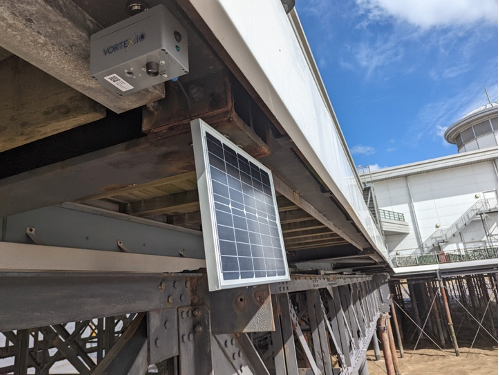 The micro-station installations at Newport (left) and Weston Super Mare (right)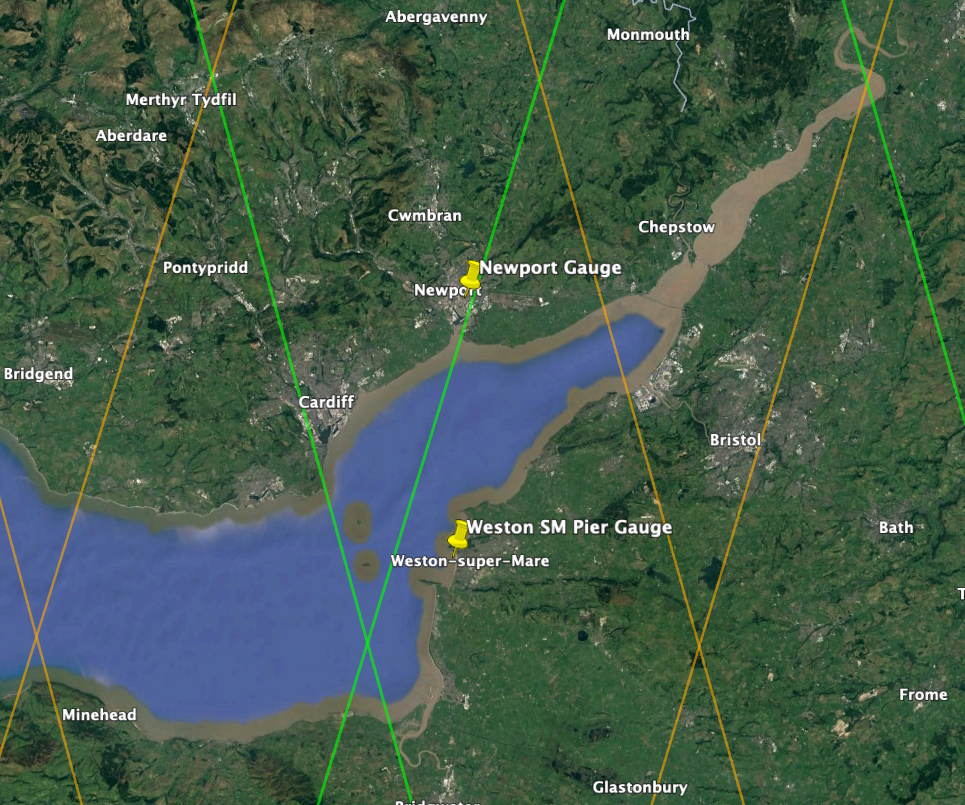 Map of the Sentinel 3A (brown) and 3B (green) satellite tracks and micro-station sites (yellow pins). Google Earth
Fully Focused Processing of SAR altimeter data near Newport, and new application (15th August 2022):
Around 30 cycles of Sentinel-3B SAR altimeter data in the area around Newport, UK, have been processed using FFSAR processing, with a resolution of 115 m along the track.

Sentinel-3 flies over Newport every 27 days, and some of the overflights took place during high tide, where the satellite could measure the sea surface, and some overflights occurred during low tide, when there was no water in the Severn in the area of Newport.

The results show that during low tide, the altimeter is able to measure the height of the seabed with a very high precision. This is very interesting since in-situ surveying for mapping the bathymetry of the Severn can be challenging due to its soft sediment bottom and it's high tidal range of up to 14 m. In addition, bathymetric data from any kind of survey in the Severn are quickly outdated because of sediment transportation. Continuous measurements from satellites would therefore be a great addition to the existing bathymetric data sets in the area.

More detail is available in a short report available here.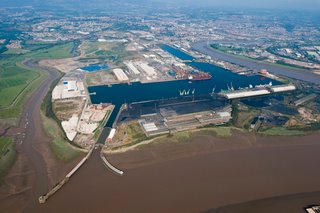 Aerial photograph of Newport docks and the River Usk (credit southwalesports.co.uk)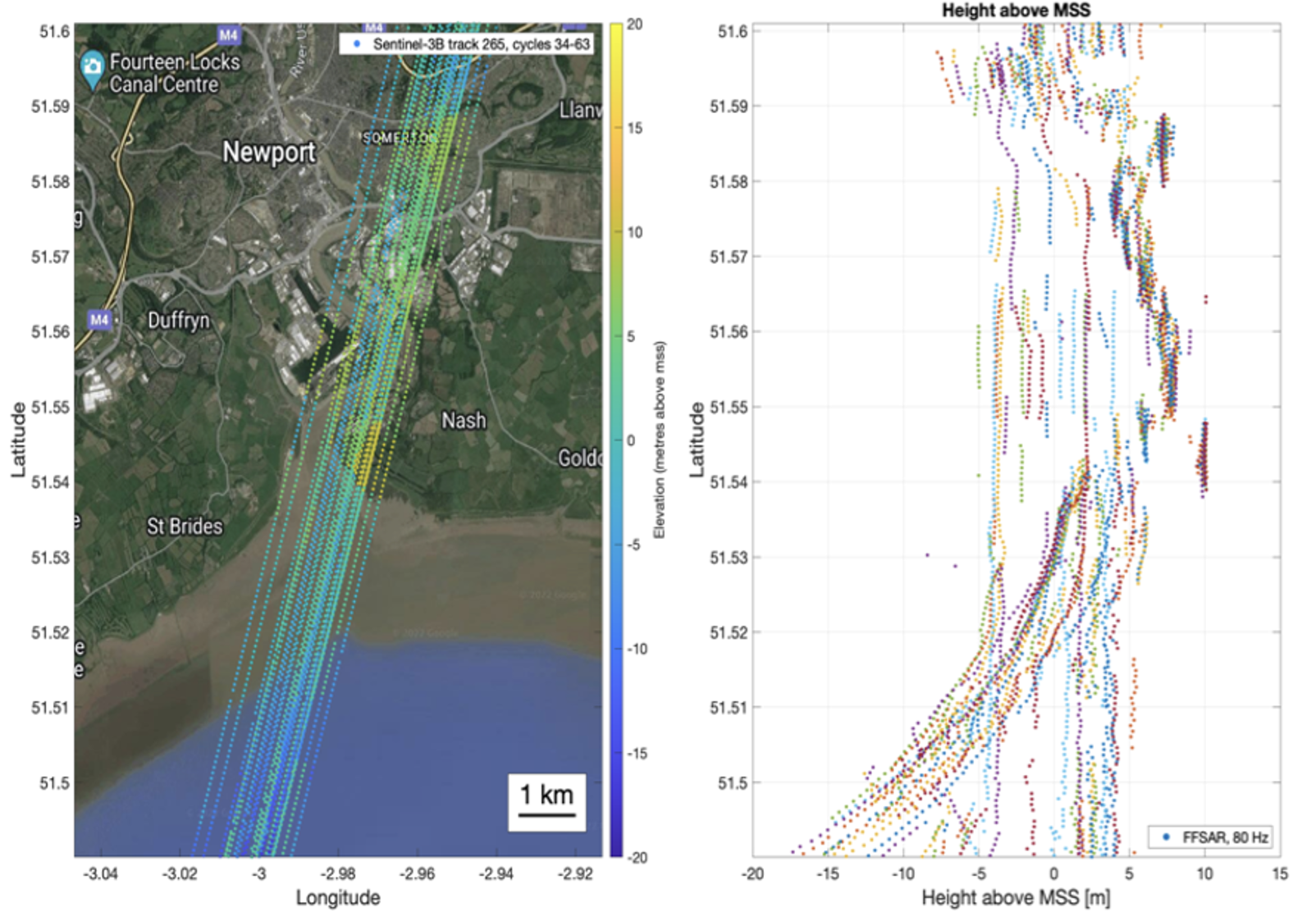 Individual Sentinel 3B ground tracks over Newport (left), retrieved surface heights from FFSAR processing (right).
First VorteX.io microstations installed (27th July 2022):
Two VorteX.io microstations were sucessfully installed on bridges near the Rhone outflow into the Gulf of Lion on the 27th July, at Port Saint Louis, and Port de Bouc - Fos sur Mer.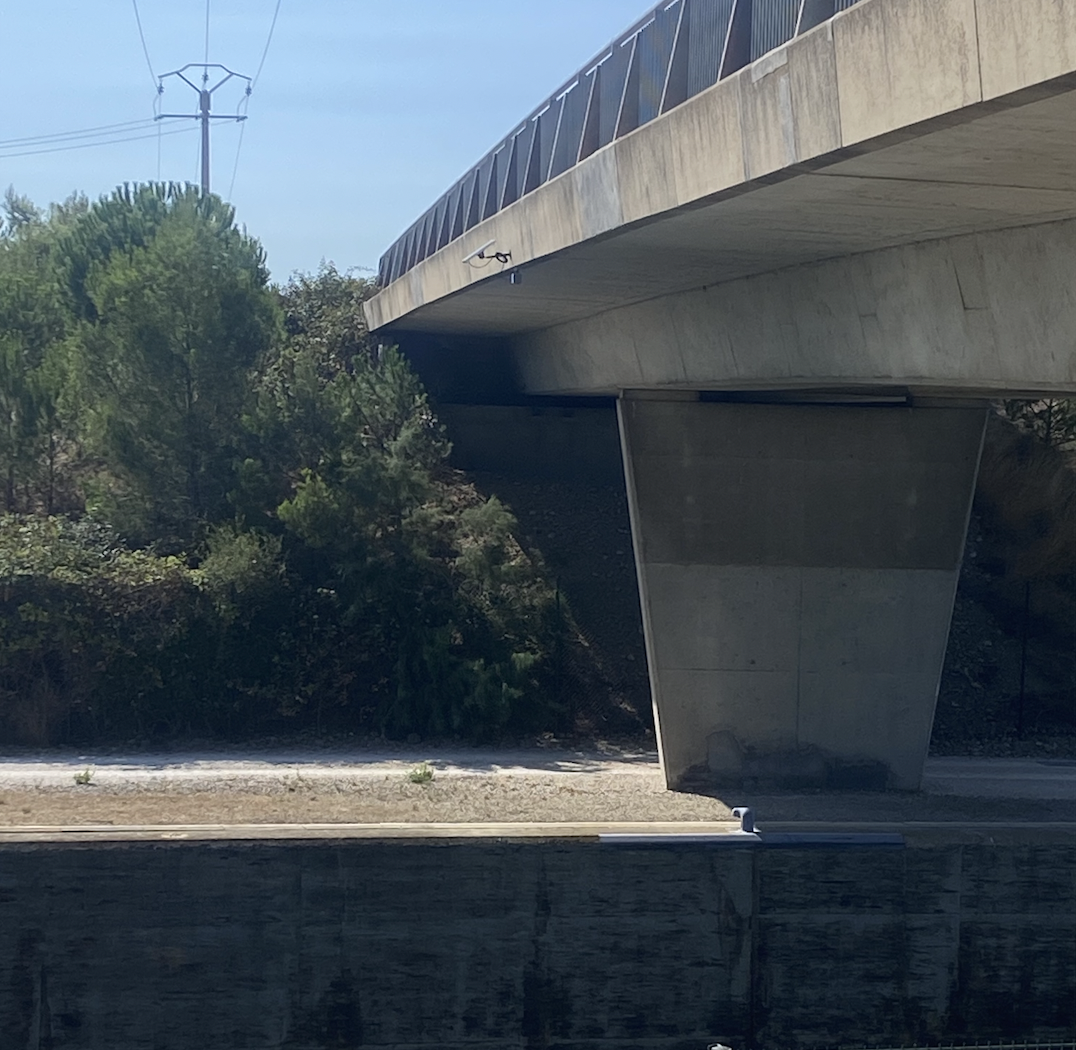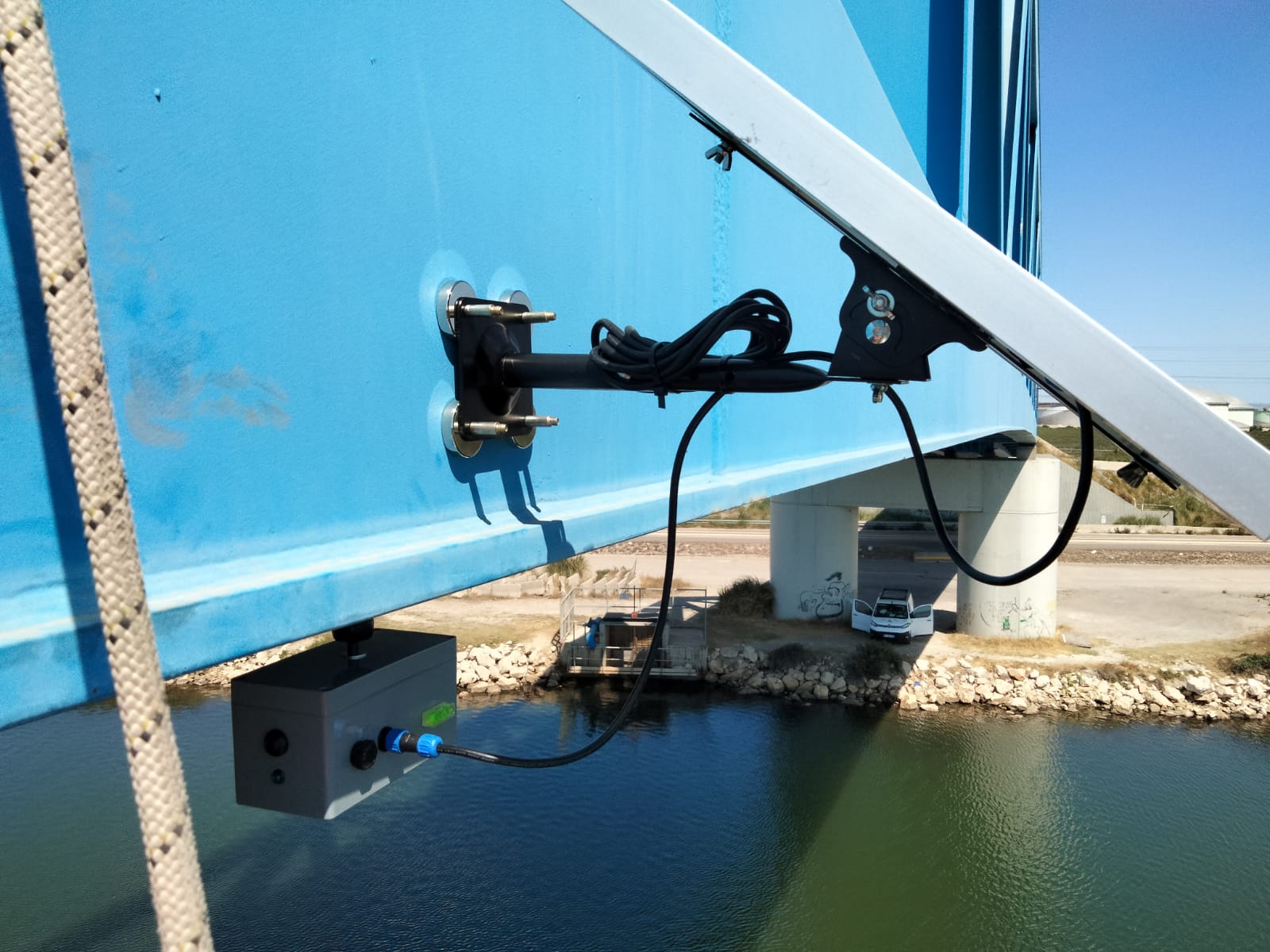 The micro-station installations at Port Saint Louis (left) and Port de Bouc - Fos sur Mer (right)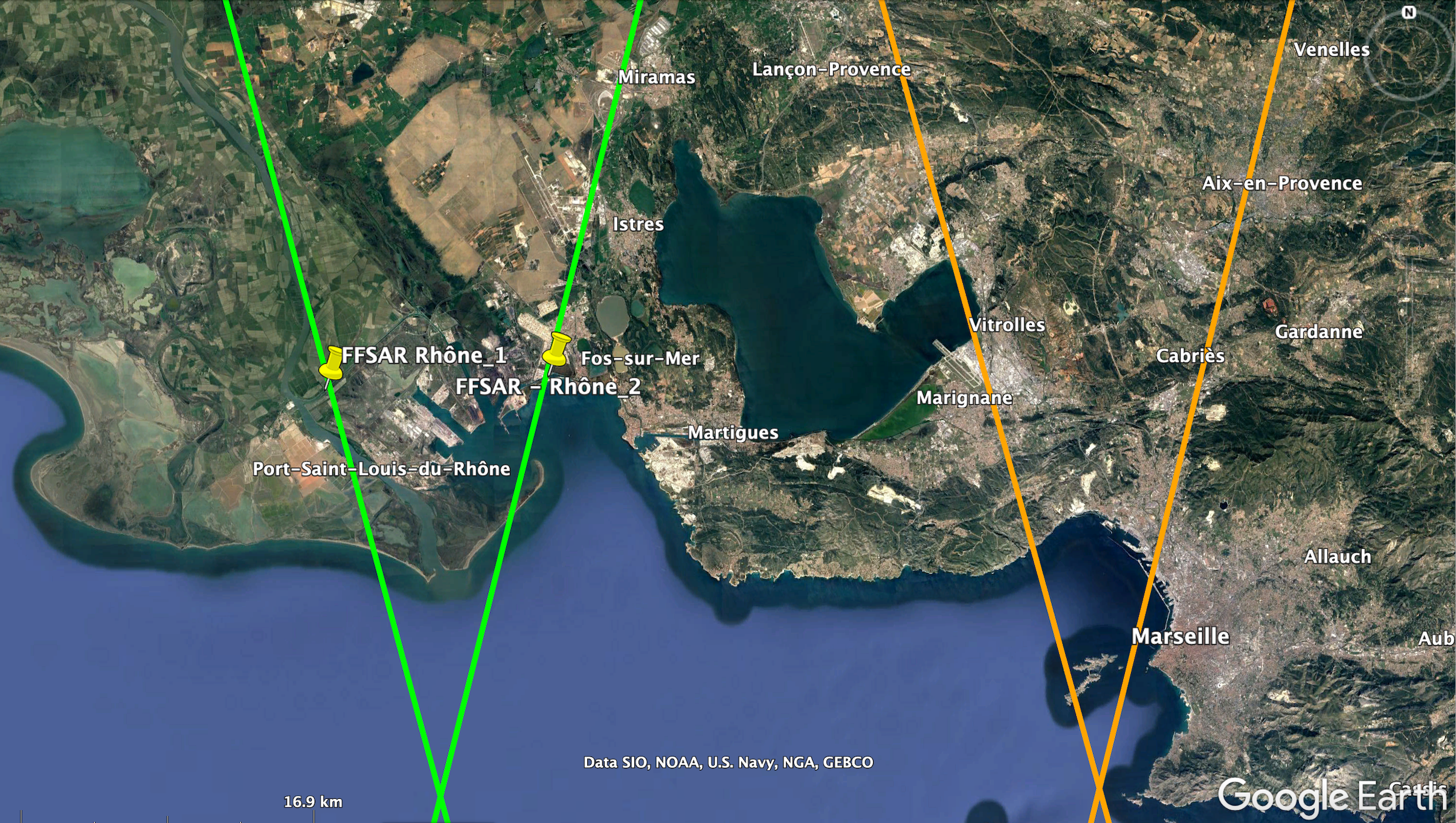 Map of the Sentinel 3A (brown) and 3B (green) satellite tracks and micro-station sites (yellow pins). Google Earth